I never thought I would see my father breath his last breath. Even when he was diagnosed with cancer just over a year ago I really never thought I would see him pass from this life. I guess I just thought something huge would happen and he would just disappear one day. But such is not the case.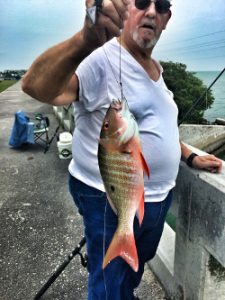 In 2 Kings, David frames his own demise as, "I am going the way of all the earth." ALL the earth! My father is simply going the way of ALL the earth! All living things deteriorate! So why do I have this sense of turmoil?
I have no regrets. My dad moved to Florida six months after my mother passed away. Since then he joined me on the road as we traveled from one end of Florida to the other and beyond. With fishing poles in tow, dad drove while I worked and when my work was done we fished nearly every pier and bridge from Jacksonville to Key West.
I remember our first trip after he moved to Florida. When lunchtime came I asked what he was in the mood for. He said, "I like Cracker Barrel or Bob Evans." I was in the mood for some shawarma. He was very concerned that I would have him eating goat brains or something worse. He resisted: "Now, your mother had more 'international' taste buds, but I like 'normal' food." I assured him that he would find kosher food very normal. That settled it for me. I was determined to help him spread his culinary wings. Shawarma it was. And he LOVED IT! In the end he developed a love of Mediterranean, Cuban, and Jewish cuisine. But his all-time favorite became hogfish served at Lazy Days in Islamorada. He looked forward to that meal more than any other. We would plan our whole day around ending up at the beach-side restaurant at dusk to enjoy the setting sun.
But unlike losing other loved ones, watching my father diminish into a frail shadow of a man is unbelievably difficult. The tension between unbearable pain and mental lucidity, between his comfort and my desire to have him coherent is a huge struggle. While the opiates help take dominion over pain, they wreak havoc upon the mental state, revealing the vulnerable frailty of mankind.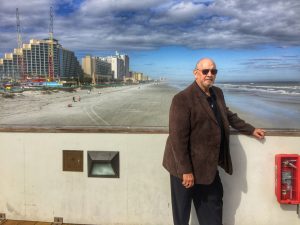 In Judaism death is mans most humble estate. It is why a corpse is never left alone and a coffin is not opened, lest someone mock or disrespect the dead in their humility and helplessness. Watching my father now I cannot help but to think of his former estate. A hulking man, my father, like all fathers was a symbol of something far greater than his frame. A father is the symbol of strength and protection. For so many years as a child he was my refuge, my fortress. I loved him. I feared him. I trusted him. I got frustrated with him. But when I needed help, I consulted him on everything. And now that persona that I have accepted as fact for 49 and 1/2 years has dissipated as what lies before me is frailty, weakness, defenselessness, and incoherence at best, unconsciousness at worst. It is the ultimate shattering of every boy's basic and most firmly held belief: "My dad can beat up your dad!" But now…..
So, I sit vigil. For what? I am not sure. The end I guess. Maybe I am semi-delusional that I alone can fend off death himself. But my mind keeps tracing back to my literary roots:
"And you, my father, there on the sad height,
Curse, bless, me now with your fierce tears, I pray.
Do not go gentle into that good night.
Rage, rage against the dying of the light."
And while part of me sympathizes with Thomas' lament, I am not convinced that raging against the dying of the light is the answer. My dad once told me that he had observed a distinct difference between the passing of those who possessed deep faith and those who did not. He said that most often, those who did not live a life of faithful obedience often struggled, fought, and raged against the dying of the light. But those with a heritage of faith passed much more peacefully. Just a few minutes ago, as the hospice nurses were changing shifts, I asked them about that. They both agreed without reservation.
For those who believe, death is more like the caterpillar that spins his cocoon. Soon all signs of life will cease and one could believe the caterpillar is no more. But if you wait long enough, you will see. Which leads me to the words of Saul of Tarsus, who, at the end of his own life, pens these words:
"For I am already being poured out as a drink offering, and the time of my departure has come. I have fought the good fight, I have finished the course, I have kept the faith; in the future there is laid up for me the crown of righteousness, which the Lord, the righteous Judge, will award to me on that day" (2 Timothy‬ ‭4:6-8‬ ‭NASB)
There is no need to rage against the dying of the light for those who fear the Lord.
I say to him now:
You fought the good fight. You finished the course. You kept the faith. Goodbye, Brave Man.
Postscript:
Clifford LeRoy Burroughs passed from this world 9 hours after the writing of this entry at 6:00 am on February 8, 2017.